Ultimate level of tailored support to suit individual needs

Spec'd to perfection to provide individualised posture, function and comfort without compromise

World's first truly growable contoured cushion to maximise pelvic stability as the child grows and develops

Click and switch parts with total ease
Support as Individual as You Are
The infinitely configurable BeMe, is a revolutionary seating system that puts a child's development and independence at the heart of its design.  Empowering a child to simply BeMe.
As Unique as a Fingerprint
Building on decades of Leckey clinical and design expertise and responding to detailed feedback from therapists and carers, BeMe is a highly personalised seating system available in three sizes and spec'd to perfection.  
Its unique modularity provides superior configurability to fit the exact needs of the child as they change, develop and grow.
BeMe is designed to suit every need with its choice of three seat options: contoured, basic and split, three back supports: basic, moderate and complex and its vast range of accessories.  Regardless of age, size or complexity, BeMe has the perfect match.
BeMe is cleverly designed so that you can configure the right support quickly and easily.  For total ease of use, parts can be effortlessly and intuitively interchanged, while clinical adjustments, including seat depth and back height, can be made while the child is seated. Armrests, femoral guides and pommels can be quickly released making transfers easier than ever.
Posture, Function & Comfort Without Compromise


BeMe's infinite configurability makes it simple to achieve the perfect fit for each child, regardless of need or complexity.
At the heart of BeMe, is the seat core, from which a range of interchangeable parts (including seats, back supports, medial, lateral, proximal and distal supports) can be quickly and easily fitted. Every part is available in different sizes and complexities and can be used on any size of BeMe.


BeMe's genuinely growable cushion, with high-stretch foam and fabric, is contoured to maximise pelvic stability and comfort as the child grows and develops. This breakthrough in support technology envelopes the child for immersive, comfortable positioning, improving pressure distribution and enhancing function. 
By reducing the need for hardware like pommels, and hip guides, BeMe allows the child to take centre stage without compromising support.


BeMe's child-centred ethos promotes practicality and function in day-to-day activities such as. playing, eating and learning, to encourage confidence, independence and inclusivity. 
It is the perfect solution to help children learn, develop and have fun – empowering a child to simply BeMe.
Choice of Seats
BeMe's modular seating system offers three sizes with three seat options: contoured, basic and split.
Choice of Back Supports
BeMe's back supports comes in three sizes and various options, including basic, moderate or complex configurations that easily click on and off in seconds.
Dynamic Backrest
BeMe's optional dynamic backrest is air pressure controlled which regulates resistance as the child extends and is speed adjustable as the child returns.  This enables BeMe and the child to move smoothly and in harmony.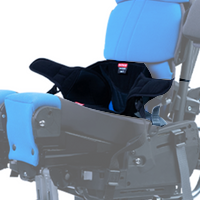 Pelvic Cradle
BeMe's unique, patented pelvic cradle provides unsurpassed pelvic control.  This hug-like support wraps around the child for stability and optimum positioning.
Slim-line Laterals
Slim-line, width, height, depth and angle adjustable lateral chest supports allow the chair to gently hug the child for extra security and comfort.
Choice of Chassis Options
BeMe offers a wide range of chassis options such as high-low, manual and power Sunrise Medical wheelchair bases.
| | | | | | |
| --- | --- | --- | --- | --- | --- |
|   | Small | Medium | Large | Medium Long | Large Long |
| Seat Depth (mm) | 170* - 325 | 300 - 425 | 360 - 500 | 350 - 475 | 410 - 550 |
| Seat Width Maximum (No Hip Guides) (mm) | 275 | 325 | 415 | 325 | 415 |
| Seat Width Maximum (Contoured) (mm) | 250 | 300 | 400 | 300 | 400 |
| Femoral Width on Split Seat (mm) |   | 90-125 | 110-160 | 90-125 | 110-160 |
| Max User Weight (kg)** | 35 | 50 | 70 | 50 | 70 |
*170mm-220mm seat depth requires spacer options  
 **System max user weight should be lesser of seat, chassis and backrest
Clinically Focused
Our approach is simple and clinically focused. Through early intervention, childhood and adulthood Leckey's experienced team of designers and clinicians work together to develop a range of innovative products that meet the clinical needs of the healthcare professionals and the social needs of the user.
Useful Downloads
Leckey BeMe Seat useful downloads.